Congratulations Ian for a very hard earned and spectacular FOTM victory!
It's been a long haul with a few stalls and direction changes along the way but our project B6T Festiva is finally on the road. Here's a quick recap of the story.
It all started in May of 2013 when we purchased a complete B6T engine, transmission, axles, FMS/ATH body kit and running automatic B6 Festiva from a forum member. The plan at the time was to drop the engine into that car, swap it over to a standard transmission, install the body kit, swithc all the goodies over from our 92 B6Festiva and hit the road. That plan changed and we sold the car, transmission and axles but kept the B6T and the body kit. At that point we were considering dropping the remaining bits into the 92 but determined over time that there was too much rust to make it viable. If you're interested in a more detailed account you can check out the full build thread
here
.
Fast forward to 2015 when we decided to start searching for a rust free, local, five speed Festiva. In May we made a deal with Julian (festyfreak39 here on the forum) to purchase the low mileage 93 Festiva he had been storing in his back yard for three or four years. We picked the car up, trailered it home and began the task of getting it ready for the B6T transplant and the transfer of all the suspension and other goodies from our rapidly decomposing 92.
The day we picked it up...
The plan now was to get all the engine, wiring and body work done on the "new" car over the winter and when things warmed up in the spring park the "old" car, strip it down and transfer everything over. However, just before Christmas the engine in the old car decided to call it quits. That put the pressure on to get the new car ready as soon as possible... which brings us to today.
We are now the proud owners of a 1993 Festiva in stock Aqua color with a few surprises under the hood.
Here's some of the basic specs
- B6T swap sourced from an 88 323GT
- Pacesetter short shifter with new shifter bushings and shortened shift rod.
- Tein coilovers all four corners
- FMS stainless brake lines all four corners
- Adjustable strut bar
- Replaced front suspension bushings, lower control arms etc.
- Aspire brakes all four corners
- FMS/ATH front and rear bumpers
- Clear, flush mounted signal lights
- European tail lights
- Mazda 121 grille, head and clear corner lights
- High mount LED third brake light mounted inside
- Body color door handles
- "Swoopy" power mirrors.
- Stainless steel hydraulic hood strut
- Tinted rear windows
- Tint across top of windshield.
- Rear wiper modified to park horizontally at the bottom of the window rather than vertically.
Interior:
- Seats from a first generation Toyota MR2
- Custom console with dual cup holders
- Aftermarket steering wheel
- Dash mounted gauge pod with boost and oil pressure gauges and an analog clock sourced from a Volvo
- Tach cluster with 180 km/h speedometer
- Variable speed intermittent wipers
- Chrome interior door handles
- Mazda 323 rear view mirror
- Grab handles for front
- Dealer intalled air conditioning
Sound:
- Pioneer DEH-4000USB head unit
- Cerwin Vega speakers in the doors
- Ford/JBL 6x9 in custom rear parcel tray
Upcoming mods
- wideband O2 sensor and AFR gauge
- Rockeyman ECU
- manual boost controller
And here's what everyone likes to see.... more photos: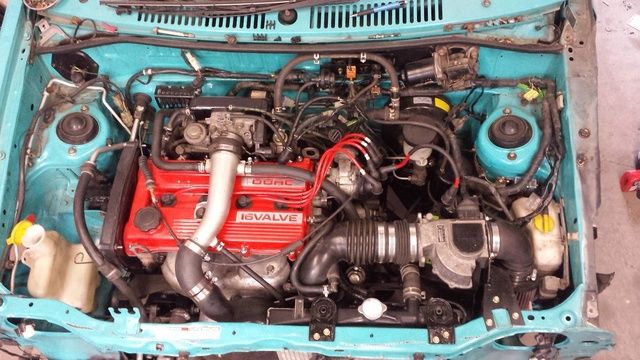 Taken before the fenders and hood were on
There are a lot of people that have helped us with this project in both big and small ways. Lots of members here have purchased parts from us that have helped fund the project, thank you. To those who have helped with late night advice and suggestion (mostly Charlie and Rob

), thank you. To this community as a whole, thank you, your support and encouragement have been greatly appreciated.
As many of you know we went on lots of adventures with our old car and that will continue with the new one. In the planning stages for August is a road trip to Montana, Wyoming and Yellowstone over some "Scenic Byways and Highways". Should have the car to just short of 11,000ft with our previous high at 9941ft coming out of Yosemite!