Well it has been just over 1 year since I flew to California to pick up Nancy.
It has been a great year and she has been very good to me! A few minor issues here and there but altogether nothing major. I've put 20,000 miles on her now and have been averaging around 43-44mpg interstate and 33-34 city with an overall average of about 38mpg. Which I am very pleased with for a bp.
What I've done since I bought her.
-New tires (had some issues but Dennis (guage) got her aligned nicely.)
-Hatch cover
-New speakers, amp/sup setup
-Intermittent Wiper (orange)
-Hatch Light
-Regular oil change
-Replaced thermostat
Pretty basic this year I was very busy this past school year and this summer.
Plans for Nancy-
-Tint (this week sometime)
-Good cleaning/detail (before fm5)
-F series tranny (getting at fm5), axles, clutch
-New windshield! (thanks festivaWes!)
-Mud flaps
-Dash clock
-Side skirts
-Turbooooooo (I have: manifold, t3 garrett turbo, intercooler, Slow build :p)
-A/C Compressor
-Hatch 12v plug in
-New vinyl decals
Hatch fo-floor, with sub/amp underneath
New decal
Cup holders oh yes
Door Tweeters
Driving Lights
I don't have any good new pics so I'll post this old one. Until I clean her up nice and shiny.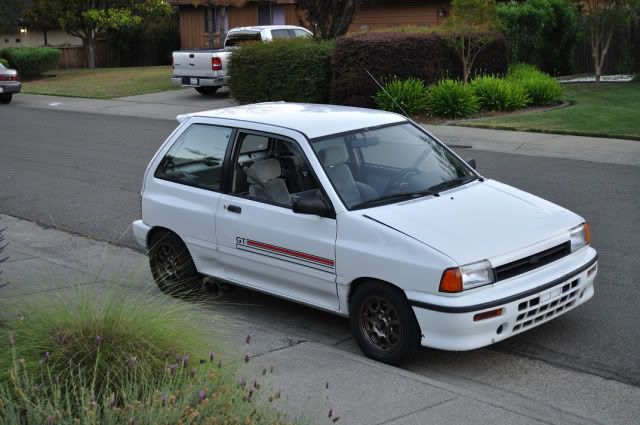 In conclusion I love my car! I love this site, and I look forward to keep working on her.